Comments Off

on INVOLVE Special Report 2015: Are Brands Delivering On Their Promise, Both Inside & Out?
"Your brand promise is not a way of doing. It's a way of being"
The balance of power has changed.
Companies no longer own their reputation. Employees and customers do. People are the power.
Customer experience is the game-changer, and a brand's promise is about building relevant and valuable experiences for consumers. For brand's to truly engage with those customers, they need to provide seamless experiences, every time. In practice, it's about creating a true impression of what a company stands for, and then delivering on what you say you'll do – without fail.
Because when brand promises are broken, it takes years to earn back customer trust.
Consider the 'The Friendly Bank', for example, that leaves you holding on the phone for 19 minutes, or the supermarket employees who are too busy talking to mates to deliver on their brand's promise to "care more about my world" – brands who promise the world but fall disappointingly short with an inconsistent customer experience. Those that get it right deliver on a promised experience and are recognised for it by employees, the market and consumers alike.
"Employees are a company's most powerful weapon; it's best brand ambassadors in fact. Only employees can deliver the lofty promises that a brand makes to its customers, and involving your people in how to do that is the most effect way of guaranteeing a truly differentiated customer experience."
Jeremy Starling, INVOLVE
In a digital world, people can build or damage the reputation of your brand in a matter of minutes. Perception, trust and loyalty towards a brand are influenced by other peoples' experiences and the good, or bad, stories they tell.
But how are they delivered?
Well, we wanted to find out, so we carried out a survey of 150 CMOs, marketing directors, brand and customer service directors within a cross section of industries and sectors – FTSE 100 & 300 organisations, UK branches of multinationals and UK-headquartered non-FTSE 350 organisations.
The results are exciting, but pose big questions and challenges for the future.
Download the full Special Report here.
As you can read for yourself in the report, our research found that most senior marketing, brand and customers experience directors believe that employees are key to delivering a great customer experience. They agreed that engaged, natural brand ambassadors will most powerfully deliver on brand promises – earning trust and winning loyalty from your customers.
This came as great news for us. We were delighted that most people interviewed acknowledged the vital sense of belonging, shared values, motivation and clear purpose that come from internal brand engagement. Unfortunately, though, the ideal does not match reality. 50% believe they are failing to engage their employees. What a dilemma.
So why the gap between belief and reality? Well, our research pointed to three main reasons:
1. The Poor Cousin – Key stakeholders don't put enough value on internal communications.
2. Measuring Nothing – The majority of companies fail to create engagement KPIs, so the impact of engagement in intangible.
3. Share of Wallet – Almost half of companies surveyed spend less than 3% of their overall marketing budget on brand engagement.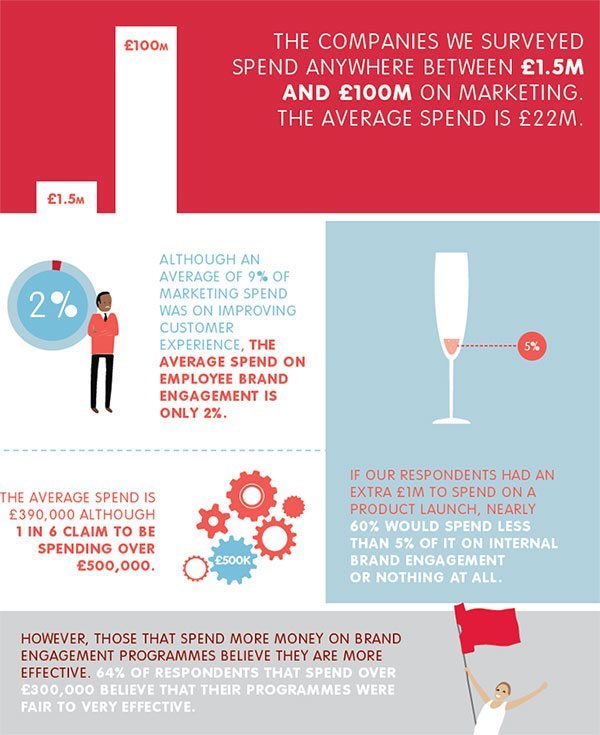 Our 2015 Special Report builds a strong case for investing in engagement. It's key to creating authentic customer experiences and building a positive reputation.
The only way to keep your brand promise is to get your people living your brand internally. In two case studies, we demonstrate how our brand values activation programmes helped two major organisations – Ladbrokes and Gatwick Airport – get their people living their core brand values. Both are now delivering a positive, unforgettable customer experience and making good on a bold brand promise.
Every time.
"Deliver Better Together"
The evidence clearly shows that we need to re-consider how brands value employees and the precious assets they bring to the table. Only when companies make engagement part of their brand's measurable success can they live up to the wonderful promises they make.
The battle for success amongst the world's leading businesses is won or lost on people power. The race is on to help your people make a difference. We can help you win that race. Download our 2015 Special Report here, or get in touch to discuss how we can help you.